December 17, 2020 – May 22, 2022
When twins Viola and Sebastian are separated in a shipwreck and wash ashore in the beautiful but mysterious land of Illyria, they're quickly caught up in a maze of mistaken identity and mismatched passions. Viola falls hopelessly in love with Duke Orsino and disguises herself as a man so she can enter his world. Filled with juicy comedic characters and beloved scoundrels, Twelfth Night features some of Shakespeare's wittiest wordplay.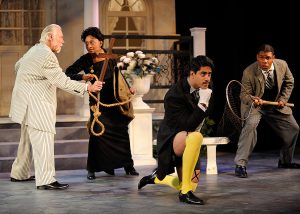 Starring Helen Cartwright as Viola, Tom Nunn as Sebastian, Irene Daniels as Olivia, and Steven French as Duke Orsino. Directed by Anna Wilton.